The Key to Going Gluten-Free and Dairy-Free for Good
"I've stopped eating bread," my mother-in-law reported as one of her New Year's Resolutions.
"Why?" I asked, a bit perplexed as I was watching her eat a plate of linguine.
She stared blankly at me for a few seconds, and then said, "Because it's unhealthy."
Some quick back history on how this conversation came to be …
Late last year it was recommended by our doctor that my husband trial a strict gluten-free diet. His results have been promising thus far, so upon hearing this, his mother decided to promptly cut out bread, yes just bread, from both her and my father-in-law's diets. Not pasta, not crackers, not the coating on her beloved tempura shrimp, and if you think for a minute that she was going to read an ingredient statement … well, now that would just be ridiculous.
Some of you might be saying, "Cutting out bread is a good start, don't knock her for it!" But, I've seen this scenario play out with her before (countless times!) and with so many other people. A month from now I can almost guarantee that she still won't know what gluten is and she'll be back to eating her turkey sandwiches with enriched bread.
The biggest problem is that she doesn't educate herself on why she is making a change or HOW to make that change. Her lack of knowledge practically guarantees defeat.
Understanding what you are doing and why is necessary for any real change. From there, the key to lasting results is planning. With food, that means in some way, shape, or form making sure you have food on hand and ideas for breakfast, lunch, dinner, snacks, AND healthy treats. You MUST be prepared for every possible moment of hunger.
Since lunch and dinner are the most overwhelming food events in our house, I created a Menu Board to keep both my husband and I aware of what's on deck …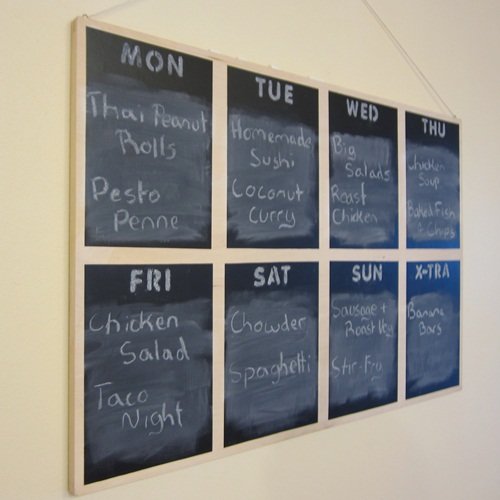 I'm flexible; sometimes we follow the board to a "T," and sometimes we sway from it (when another "in diet" idea comes along). Nonetheless, always having options planned ensures that we stay on track.
Here are a few Simple and Healthy Dairy-Free AND Gluten-Free Recipes and Ideas that make my Menu Board often:
And some tasty Breakfast Ideas for additional planning:
What are some of your favorite everyday GF/DF meal and snack ideas? Please feel free to link up in the comments to favorite recipes!
Alisa Fleming is the founder of the largest dairy-free website, Go Dairy Free, and author of the best-selling special diet book, Go Dairy Free: The Guide and Cookbook for Milk Allergies, Lactose Intolerance, and Casein-Free Living.
20 Responses to The Key to Going Gluten-Free and Dairy-Free for Good