Lately my life has been more hectic than I could have imagined. Our baby is due in just over 14 days.  I'm preparing for maternity leave, cooking extra meals so our freezer is well-stocked, organizing the baby's room, have weekly doctor's appointments, and am trying to tie up any loose ends before the big day gets here.
I'm striving for balance in the middle of what could be a really stressful time. I don't want to feel pressure. I want to savor every moment. Though I won't claim perfection, I can honestly say I've managed to do pretty darn well.
What have I been doing to stay balanced more of the time than not?
1. Every appointment and commitment goes into one calendar.
One central calendar lets me see everything going on in my life at a glance. Using more than one calendar is a sure recipe for disaster.
I use the iCal on my Mac which is set up to automatically sync with my iPhone and iPad. Each morning I review my daily calendar so I'm prepared for the day. I also set alarms with important appointments to help me remember commitments.
2. Plan meals.
This ends the dreaded question, "What's for dinner?" It removes stress, ensures you're eating nutritious meals, and helps to avoid last minute runs to the grocery store.
The other benefit of planning meals is that I can cook a double or triple recipe and freeze the leftovers. This has helped make stocking up for the weeks after our baby arrives simple. I suggest doing this on a regular basis to make meals on busy nights a breeze.
Check out my series, Meal Planning Made Simple. You'll see how I plan meals and get free printables to help make it simple for you.

3. Be flexible!

This isn't something I'm good at. I like to plan my day and execute it accordingly. Pregnancy has thrown me a few curve balls. I've learned to be flexible. I work when I'm able, sleep when I need to, and let go of things that aren't important.

4. Get regular exercise.
Many people let exercise go when life gets hectic. At 38 weeks pregnant, I've got a good excuse to not get out and walk or practice yoga. I'm committed to making exercise a priority, though. It helps keep my body in balance, reduces stress, and boosts energy.
5. Ask for help.
I've always been one of those "do-it-myself-ers." Pregnancy has taught me to ask for help. I don't think twice about asking Joe to fold laundry while he's watching TV or to take the dogs to the groomer. I even ask him to make dinner some nights. In a nutshell, I no longer try to do it all. I love it!
6. Take time for me.
When I look back over the most stressful times in my life, I see a pattern. I let self-care go and push myself to my limit. It doesn't work. So, instead of burning myself out I take time every day to do something that feeds my soul. It might be reading a good book, having dinner with girlfriends, or just sitting quietly, resting, and breathing.
How do you balance your life?
Amy Green is a co-founder of The Balanced Platter and the author of Simply Sugar & Gluten-Free where she shares simple-to-make, gluten-free, refined sugar-free recipes along with tips for living well. She also authored  the book Simply Sugar and Gluten-Free: 180 Easy and Delicious Recipes You Can Make in 20 Minutes or Less
. Amy has been maintaining a 60+ pound weight loss due to the elimination of wheat and refined sugars.

"I've stopped eating bread," my mother-in-law reported as one of her New Year's Resolutions.
"Why?" I asked, a bit perplexed as I was watching her eat a plate of linguine.
She stared blankly at me for a few seconds, and then said, "Because it's unhealthy."
Some quick back history on how this conversation came to be …
Late last year it was recommended by our doctor that my husband trial a strict gluten-free diet. His results have been promising thus far, so upon hearing this, his mother decided to promptly cut out bread, yes just bread, from both her and my father-in-law's diets. Not pasta, not crackers, not the coating on her beloved tempura shrimp, and if you think for a minute that she was going to read an ingredient statement … well, now that would just be ridiculous.
Some of you might be saying, "Cutting out bread is a good start, don't knock her for it!" But, I've seen this scenario play out with her before (countless times!) and with so many other people. A month from now I can almost guarantee that she still won't know what gluten is and she'll be back to eating her turkey sandwiches with enriched bread.
The biggest problem is that she doesn't educate herself on why she is making a change or HOW to make that change. Her lack of knowledge practically guarantees defeat.
Understanding what you are doing and why is necessary for any real change. From there, the key to lasting results is planning. With food, that means in some way, shape, or form making sure you have food on hand and ideas for breakfast, lunch, dinner, snacks, AND healthy treats. You MUST be prepared for every possible moment of hunger.
Since lunch and dinner are the most overwhelming food events in our house, I created a Menu Board to keep both my husband and I aware of what's on deck …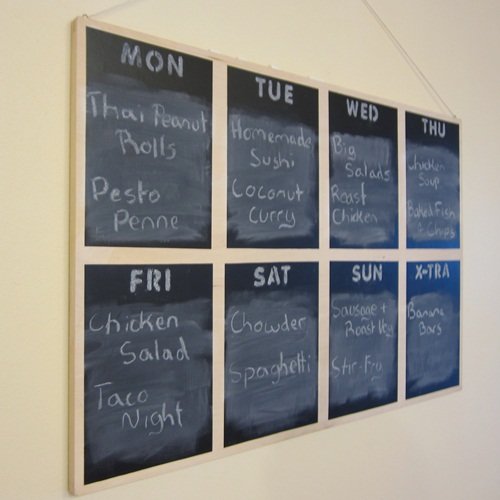 I'm flexible; sometimes we follow the board to a "T," and sometimes we sway from it (when another "in diet" idea comes along). Nonetheless, always having options planned ensures that we stay on track.
Here are a few Simple and Healthy Dairy-Free AND Gluten-Free Recipes and Ideas that make my Menu Board often:
And some tasty Breakfast Ideas for additional planning:
What are some of your favorite everyday GF/DF meal and snack ideas? Please feel free to link up in the comments to favorite recipes!
Alisa Fleming is the founder of the largest dairy-free website, Go Dairy Free, and author of the best-selling special diet book, Go Dairy Free: The Guide and Cookbook for Milk Allergies, Lactose Intolerance, and Casein-Free Living.
I don't make weekly menu plans, but I secretly admire those who do. Menu plans appeal to my love of organization, much like this pantry of canned goods.
However, I wanted to show you what a week of meals looks like at my house. So I wrote down a week of meals like a journal. You can use it as a menu plan, or let it be an inspiration to you for the beauty of leftovers
As you can see, I rarely make a single batch of anything. I double most of my recipes so we have leftovers. It saves me so much time and energy.
Also, you can see a theme running through this week's meals — beans! I save so much money buying dry beans and using them in my cakes, breads, and more. Plus, soaking dry beans and cooking them yourself makes them much easier to digest than canned beans.
Planning your menu for the week starts the weekend before, and for this week in particular it starts with cooking lots and lots of beans. But when you realize that this meal plan is for four people, you see that it isn't really so many beans per person.
Saturday: Soak 7 cups of dry Navy Beans in enough water to cover the beans, plus three inches.
Sunday: Strain the soaking water and simmer the beans in enough fresh water to cover, plus about two inches. Simmer beans for about one hour.
Store half of the cooked beans in the fridge and freeze the other half for later in the week. (Beans usually last about four days in the fridge.)
Bake Coffee Cake for breakfast Monday and Tuesday.
Keep reading…